Does your job require traveling from cities coast-to-coast or across continents on a regular basis? If so, you may be wasting valuable time relying on the traditional airport experience to get you where you need to be. This is when owning a private jet can make a world of difference.
Buying a private jet isn't for everyone, but if you travel frequently, and are tired of dealing with the ever-changing and laborious commercial airport processes, owning a private jet might be the ideal solution for you (and your company).
But what does owning a private aircraft really look like? Is it worth the expense, or will an alternate method (like on-demand charter or fractional private jet ownership) make more sense? To help you clearly understand your options, here are some of the questions and answers involved in private jet ownership.
---
Table of Contents:
When Does Buying a Private Jet Make Sense?
What's the Cost of Owning a Private Jet?
---
When Does Buying a Private Jet Make Sense?
Private jet ownership is often associated with celebrities, but most private jets are used for business purposes. Time is money, after all, and flying to your destination on a private jet is one of the most effective ways to save time.
The cost of owning a private jet only makes financial sense if you're traveling enough to get your money's worth or have implemented a plan to generate revenue when not in use. If you're making a few trips a year, then chartering a private jet might be a better option. However, if your business requires flying several times a month (or approximately 240 hours a year), buying a private jet (or at least owning part of a jet) could save you enough money to make up for the upfront costs associated with ownership.
If you're interested in buying a private jet, there are a few things you're going to want to consider first.
Comparing Price Ranges
Before making any purchase, especially one as substantial as a private jet, you're going to want to compare the price ranges and assess how well they do (or don't) fit into your budget.
Purchasing a private jet can cost between $1 million and $90 million, depending on the type of jet you have your eye on and the different features you want it equipped with. That's a pretty dramatic range, which means there's a lot of room for you to find an aircraft that fits your budget and your needs.
It's all about the kind of private jet experience you want to curate for yourself. If you're looking for something that will be used strictly for professional business trips, especially ones that don't take you outside of the country, then a jet on the lower price end might meet your needs just fine. But if you want something that can comfortably accommodate larger groups of people, you would benefit from exploring some of the pricier and more customizable options available.
A Note About the CARES Act
In response to the COVID-19 pandemic, the Coronavirus Aid, Relief, and Economic Security Act (the CARES Act) has been enacted and allows taxpayers to deduct their current year tax losses against their income from a prior tax year. If your business has been considering the purchase of a private jet, then the CARES Act may be able to help you save money.
Here's an example from Aviation Tax Consultants to illustrate the kind of savings the CARES Act might be able to offer you: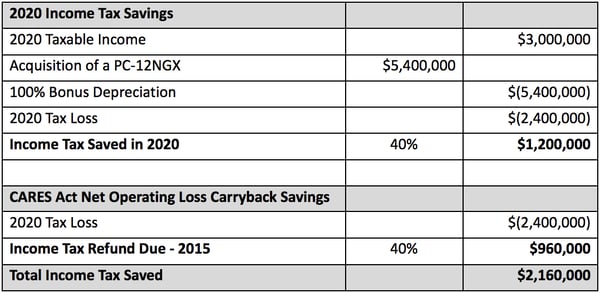 The pandemic has affected and will continue to affect a lot of business' revenue in 2020. But thanks to the CARES Act, you can acquire a business aircraft with 100% bonus depreciation, and as a result, receive income tax refunds that go as far back as 2015. So, while owning a private jet in 2020 may sound daunting, this tax provision can help make it an investment that pays off in the long run.
Buying New or Pre-Owned
In the same way that you want to compare prices before making a big purchase, you will also want to weigh the pros and cons of buying a new or pre-owned aircraft.
"Many aviation experts will agree that new jets are better in terms of maintenance, fueling, speed, comfort, and security than previous models," VREF says. However, VREF also says that used jets can be better options as "their depreciation rate is slower than that of other auto assets. Although it will lose value over time, a jet has a longer lifespan of about 50 years. This means that a 10-year-old aircraft will be in good performing shape despite significant depreciation."
Insurance Costs
If you're going to be owning a private jet, you're going to need insurance. Imagine what would happen if you drove your car, got in an accident, and didn't have insurance to help cover the damage to your car (and any other damage done). Now imagine your jet is involved in a minor accident while being stored in your hangar. Both the jet and part of the hangar it's stored in are damaged. Those are expenses you don't want to be caught unprepared for.
As you look for the right broker to assist you in the purchase of a jet and aviation insurance, Flying Magazine recommends asking the following questions:
Does the broker work in all of the aviation insurance markets located in the state you'll be operating out of?
Are there any discounts if you're a member of a specific club or industry organization?
Do they specialize in a specific area of aviation? If so, which one?
Will the broker automatically shop your rate when it's time to renew?
Can they provide you with a sample policy to review?
Do they offer a breakdown of what makes one policy better than another policy?
Can they provide you with an example of a policy they've given out for a situation similar to yours?
If you are piloting your own plane, you may save on insurance costs by regularly participating in training courses to keep your skills up-to-date, getting new ratings for your equipment and/or instruments, and parking your aircraft in a hangar.
Financing
Since buying a private jet is a large purchase to undertake, financing it becomes important. Personal loans from banks, secured loans, lenders that specialize in private jets, and in-house financing are most common.
Choosing a bank you have a financial history with will more readily qualify you. If you go the route of a secured personal loan, backing it up with personal assets could make you an attractive candidate (which would mean a better chance of approval and lower overall rates). Lenders that specialize in private jet ownership can also be appealing, as their targeted expertise and services can help the financing process go smoother.
What's the Cost of Owning a Private Jet?
Understanding all costs involved when owning a private jet, beyond the upfront costs, is paramount to a smart decision. Here are some of the expenses you'll encounter as the owner of a private jet.
Hangar and Storage Fees
You're not going to want to store your multi-million dollar investment in a place where it's exposed to the elements, which means you need to find a place to keep it safe. Finding a hangar for your private jet isn't terribly difficult—some commercial airports, like LAX, will let private jet owners store their planes. However, the cost of securing one can range dramatically.
For example, a commercial airport can involve paying over $100,000 a year in storage fees, whereas a smaller, privately-owned hangar could cost considerably less. It all depends on your needs, location, and the kinds of services you're looking for.
So, before you sign on the dotted line and become the proud owner of a private jet, take some time to explore the different storage options you have. This will help you get a clearer picture of how much money you'll spend upfront and how much you'll be spending in the long term.
The Cost of Fuel
The cost of fuel is perhaps the most consistent expense in your purchase. Different types of aircraft consume different amounts of fuel, with larger aircraft understandably needing more than their smaller counterparts. However, newer models are often more energy-efficient, which is one of the factors you'll want to consider when weighing the pros and cons of buying a new or pre-owned jet.
For example, consider this breakdown from Slate.com about how much fuel the Cessna Citation Excel, a popular midsize jet, goes through on a regular trip. With a max range of ~1,800 miles, filling the jet's fuel tank for a full trip would mean purchasing around 800 gallons of jet fuel. That would equate to roughly $4,000. While that number would differ depending on the model (newer versions of the Citation consume less fuel), it's enough to give you a very rough idea about how much it takes to fill the tank of a midsize private jet.
The overall distance a jet can travel, alongside its fuel economy, are two major points to consider. If you have questions about the different models and the features they offer, get in touch with a private jet broker. They'll have the expertise to set you up with the aircraft that works best for you, your budget, and your needs.
Pilot and Crew Salaries
Depending on the ways you use your private jet, you'll have to compensate the pilot and crew that operate your jet. If you're taking a one-way trip, for example, you'll be paying for at least a pilot (and any additional crew you need or want) for the trip there and the return flight, so that they can return the plane to its original location.
However, if you're making a round trip, you will likely need to provide accommodations for the crew or send them back home. If you're working with a management company to organize your trip, it will be their responsibility to find a crew for you, leaving you with one less thing to do.
Maintenance and Repairs
Jets are complex machines, and as such, require regular maintenance. And like any machine, the more you use your jet, the more wear-and-tear it will gather, which will mean more repairs.
Repairing or replacing a part of the aircraft can be expensive, but unlike the factors listed above, it won't be a consistent expense. Taking the time to find a good hangar and performing regular inspections can minimize costly repairs. According to Investopedia, a blown tire can cost upwards of $2,000, while repairing something like a cracked windshield can come in anywhere between $40,000 to $70,000. As a private jet owner, it will be your responsibility to cover these repairs. It will pay (literally) to make sure your aircraft is properly maintained and cared for.
How Can You Get Started?
After all this, you might still be asking, "how much does it cost to buy a private jet, really?" The answer is detailed, as owning a private jet involves far more than just the price of the plane itself. Therefore, it's essential to take time to assess your situation, look into the amount of travel you (and/or your employees) do, and keep track of all travel expenses.
If you decide that private jet ownership is right for you, and want to utilize private air travel to its maximum potential, Hangar 7 Aviation is here to help! Owning a private jet can be a tremendous asset to your company, and our team of specialists is ready and waiting to assist you.
Curious about the best private jets to buy? We can point you in the right direction. Want to know if fractional private jet ownership or on-demand private charter is a better option for you? We have the insights you need to help you make the best decision for your business. Get in touch with us today!