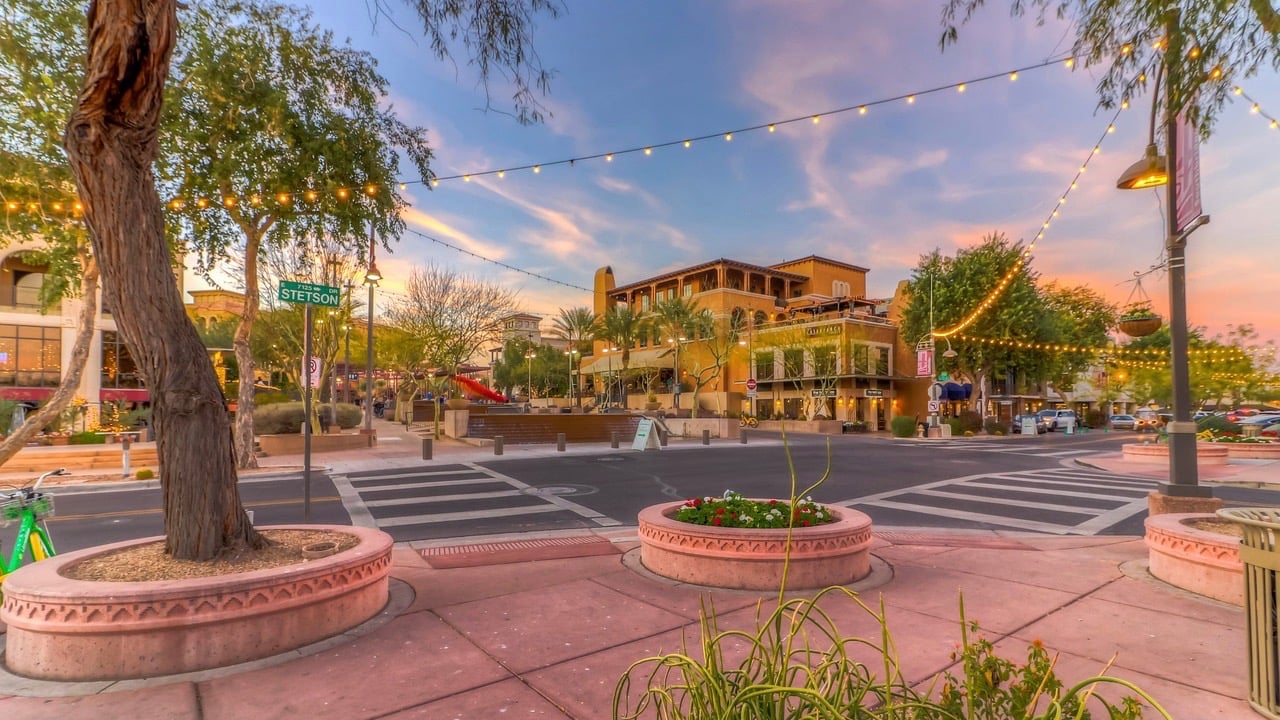 Nestled between the sunny and bustling city of Phoenix to the west and the McDowell Mountains to the east is the finest urban center in all of Arizona — downtown Scottsdale. This year-round warm weather tourist attraction plays host to a series of luxury resorts, more than 90 restaurants, 300 retail shops, and 80 art galleries.
Technicolor sunsets and the lush landscape of the Sonoran Desert make the Phoenix/Scottsdale region an especially beautiful destination for both business and leisure. If you're looking for Phoenix or Scottsdale private jet charter flights, don't miss out on the essential travel tips for airports, activities, and dining below!
Private Airports Near Scottsdale AZ
From a major international hub to exclusive private FBOs, you've got plenty of great options for flying to Phoenix or Scottsdale on a private charter jet.
Phoenix Sky Harbor International Airport (PHX)

: Only 3 miles east of downtown Phoenix is the closest airport to Scottsdale Arizona: Phoenix Sky Harbor, which is also Arizona's largest airport. In fact, it's one of the biggest (and busiest) commercial airports in the US (and ranked 44th in the world).

Scottsdale Airport (KSDL/SCF)

: This is Scottsdale's own aviation center, located 9 miles north of downtown Scottsdale. With 186,514 operations in 2019, it's among the busiest single-runway airports in the country. The lone asphalt runway is a generous 8,249 ft. long and will accommodate nearly any private charter jet.
Scottsdale Airport is also home to three main fixed-based operators (FBOs) in

Jet Aviation

,

Signature Flight Support

, and

Ross Aviation

, all great options for flyers interested in the convenience and privacy of Scottsdale private jet charter facilities.
The Best Things To Do in Scottsdale
There's a little something for everyone in Scottsdale. Here are some top options for travelers who are looking to do sightseeing, shopping, or something a bit more unique.
Jeep Adventure Tours

: Book a spectacular sightseeing tour via Jeep in the world-famous glow of the Sonoran Desert sunset.

Scottsdale Fashion Square

: Travelers from around the world come to the Scottsdale Fashion Square to show their passion for elite brands and enjoy a premier retail, dining, and entertainment experience.

Hike Camelback Mountain

: This scenic adventure is among the best urban hikes in the United States. It can be a challenging trail, so come prepared. Traverse the distinctive and iconic twin peaks of the Phoenix skyline, which look like the humped back of a kneeling camel in silhouette, and lay eyes on truly stunning vistas of the valley (as well as flowering cacti and wildflowers in the spring!).
The Best Restaurants in North Scottsdale
There sure are a ton of fantastic dining options in the downtown area, but these gems in North Scottsdale are great for travelers who want to experience mouthwatering Scottsdale cuisine away from the bustle of the urban center.
Best Time to Travel to Phoenix & Scottsdale
Blue skies and highs in the upper 60s to lower 80s make the winter stretch of November-April an excellent time of year for visiting Phoenix and Scottsdale, Arizona. Prices will be higher and tourist areas will be busier at this time of year, but the glorious weather and exciting attractions will be worth the effort.
Summers are toasty in the "Valley of the Sun," with daily temperatures in Phoenix often topping (or even averaging) 100 degrees Fahrenheit. For travelers who don't mind the heat, Scottsdale private jet charter flights and local luxury resorts are sure to feature excellent off-season deals.
Make Scottsdale Private Jet Charter Arrangements With Us!
Our agents are ready to offer you advice and flexible accommodations as you prepare and book private charter flights to Phoenix and Scottsdale. Contact Hangar 7 Aviation today and start arranging the details of your trip!